Huffington Post | British Columbia
June 25, 2015 | Andree Lau
Montreal Canadiens goaltender Carey Price paid homage to his Aboriginal roots in B.C. as he accepted one of his four trophies at the NHL Awards on Wednesday night.
"I would like to take a moment to encourage First Nations youth," said Price, who grew up in the mostly Aboriginal community of Anahim Lake in central B.C.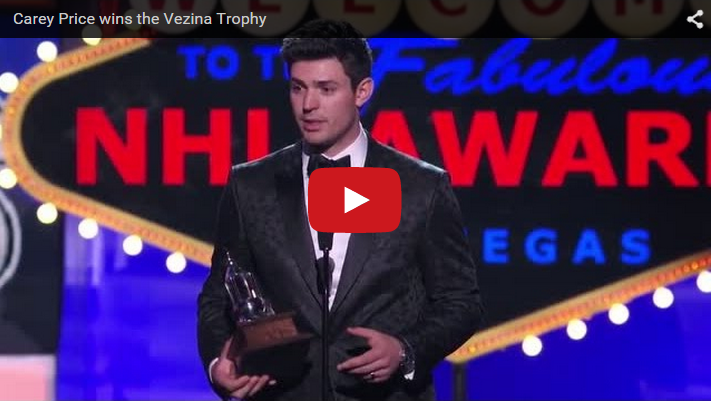 His mother is a former chief of the Ulkatcho First Nation, and his father — a former professional goalie — used to drive Price to hockey games 300 kilometres away in Williams Lake.
On Wednesday night, Price took home the Hart Trophy as the league's most valuable player, the Vezina Trophy as top goalie, and the Ted Lindsay Award as the most outstanding player in the NHL. He also shared the William M. Jennings Trophy for allowing the fewest goals in the regular season.
Price, 27, also won an Olympic gold medal with Team Canada in Sochi, Russia last year.
"A lot of people would say it's very improbable that I would make it to this point in my life. I made it here because … I wasn't discouraged. I've worked hard to get here, took advantage of every opportunity I had," he said in his Vezina acceptance speech. (Watch above.)
"And I'd really like to encourage First Nations youth to be leaders in their communities, be proud of your heritage and don't be discouraged from the improbable. Sunachailya."
"Sunachailya" means thank you in the Dakelh language, spoken by the Ulkatcho people who are part of the Carrier First Nation.
Price said returning regularly to the Cariboo-Chilcotin region where he grew up is important for him to connect with the land, his family, and a responsibility to be a role model for young Aboriginal kids, according to a 2008 profile by the Vancouver Sun.
Price's devotion to his hometown showed through earlier this year when a shy boy from Anahim Lake won a chance to visit his hero in Montreal. The goaltender was brought to tears when he received a gift made by school kids back home.