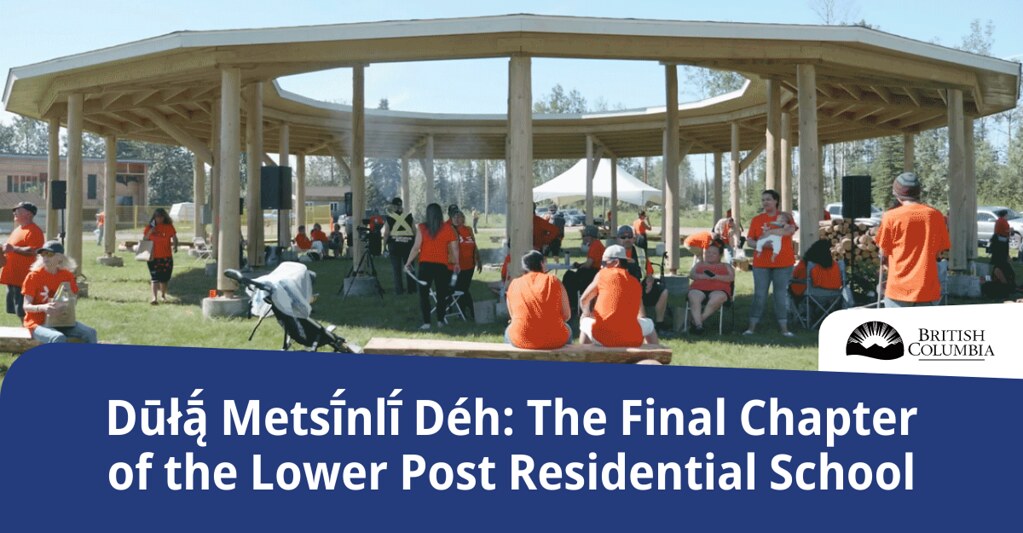 Dūłą̄́ Metsī́nlī́ Déh: The Final Chapter of the Lower Post Residential School tells the story of a gathering held on June 30, 2021, in the Kaska Dena community of Lower Post. Over the course of the day, people came together to grieve, heal, and witness a ceremonial demolition of the Lower Post residential school, and participate in a blessing of the grounds for a new cultural centre.
The residential school operated from 1951 to 1975, impacting thousands of children and families. Sadly, the community was forced to use the former residential school building for many years as a band office, sparking unwelcome memories for members of the community. In 2021, funding was secured to tear down the building and replace it with a new community centre. The new building is expected to be completed in 2022.
Indigenous peoples in BC are bringing to light the tragic history and ongoing impacts of the residential school system. We honour the survivors, families and communities who grapple with the aftermath of the residential school system. In BC we are committed to the ongoing process of reconciliation, and finding a new path forward – one built on a foundation of truth, transparency and healing.