Vancouver lawyer, Doug Eyford, who was hired by Ottawa to review the modern-day treaty process, has issued a report to the Honourable Bernard Valcourt that identifies issues raised at engagement meetings held by Eyford with representatives of Aboriginal communities and organizations, provincial and territorial governments, and stakeholders about Canada's comprehensive land claims policy. His report contains recommendations for the Minister to consider in deliberations about next steps.
---
Executive Summary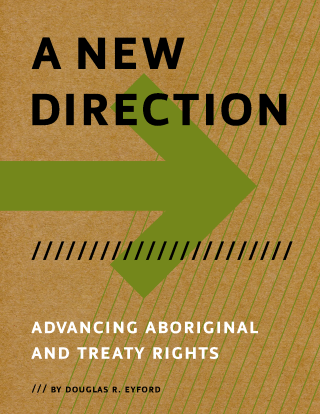 Treaty-making has been a dominant feature of Crown-Aboriginal relations since the 18th century. The earliest treaties in present day Canada were simple agreements designed to secure military alliances, promote peace, and facilitate trade. As the country expanded west and north, treaties were completed to clear title to the land for settlement and development. Canada's efforts to conclude treaties ended in 1921 without treaties being completed in parts of Quebec, Labrador, Ontario, the north, and most of British Columbia.
Canada re-established a policy of treaty-making in 1973 in response to persisting claims of unextinguished Aboriginal rights to land. Comprehensive land claims agreements are the modern equivalent of historic treaties. They are designed to provide certainty and predictability over land and resources. Modern treaties, where completed, have improved socio-economic outcomes for Aboriginal beneficiaries.
It is discouraging, however, that only 26 agreements have been finalized in 42 years given the expenditure of time and resources on negotiations. From the outset, the comprehensive land claims process has been undermined by institutional barriers and process inefficiencies. Today, 75 claims are at various stages of negotiation. More than 80 per cent of those tables have been in the treaty process for longer than ten years, some for more than two decades.
It is costly to maintain negotiations that drag on year-after-year. Aboriginal participation is funded through a combination of loans and non-repayable contributions. Since 1973, Canada has advanced in excess of $1 billion to Aboriginal groups through loans and contributions. The debt burden has become an unsustainable barrier to progress.
There is a conspicuous lack of urgency in negotiations and in many cases there are sharp differences between the parties about the core elements of a modern treaty. A plan needs to be developed to bring negotiations to a close. All parties must be ready to confront hard realities. Not all claims appear to be heading to successful conclusions.
Efforts to negotiate comprehensive land claims have occurred during a period of sweeping legal changes. In 1982, Aboriginal and treaty rights were recognized and affirmed in the Canadian Constitution. Since then, litigation has dominated Crown-Aboriginal relations and a series of judicial decisions has imposed high standards on the Crown in its dealings with Aboriginal people. It has been challenging for public policy to keep pace with the evolving legal landscape.
In July 2014, the Hon. Bernard Valcourt asked me to lead Canada's engagement with Aboriginal groups and key stakeholders as a first step towards the renewal of Canada's comprehensive land claims policy. My appointment coincided with the release of an interim policy, Renewing the Comprehensive Land Claims Policy: Towards a Framework for Addressing Section 35 Aboriginal Rights. The interim policy outlines Canada's approach to developing a new framework to address Aboriginal and treaty rights and was intended as a starting point for my engagement with Aboriginal groups and others.
Engagement meetings took place over a period of several months in eight provinces and two territories. The meetings were attended by representatives from over 100 Aboriginal communities, as well as Aboriginal organizations, provincial, territorial, and municipal governments, and other stakeholders. The meetings provided a constructive exchange of views about the comprehensive land claims process, as well as more general discussions about Canada's relationship with Aboriginal Canadians.
The renewal of the comprehensive land claims policy is timely. As the interim policy notes, Aboriginal people represent the fastest-growing segment of the Canadian population, with close to 50 per cent of the Aboriginal population under age 25. The interim policy links these demographics to opportunities for economic growth, prosperity, and job creation. It acknowledges a series of principles to recognize and reconcile Aboriginal rights and proposes that recognition and reconciliation be pursued through agreements and arrangements in addition to comprehensive modern treaties.
The interim policy is a constructive starting point. Canada's commitment to reconciliation should be reflected in a new framework that:
continues to support modern treaty negotiations but addresses the institutional barriers and process inefficiencies that are obstructing progress at treaty tables;
provides a rights-informed approach to treaty-making for Aboriginal groups that want to proceed on that basis;
offers other reconciliation arrangements for Aboriginal groups that are not interested in negotiating a comprehensive land claims agreement; and
improves the implementation of modern treaties and other agreements with Aboriginal groups.
A national policy that attempts to address the divergent interests of all Aboriginal groups the same way is bound to produce limited results. Canada's approach must be capable of responding to the varied historic, cultural, and socio-economic interests of Aboriginal communities. Because reconciliation is an ongoing process, it will also be important for Canada's approach to adapt to new developments and changing circumstances.
– by Douglas R. Eyford
Executive Summary from: A New Direction: Advancing Aboriginal and Treaty Rights (2015)